Time to get crazy! Our friends at Aurifil sent each of us a set of their new 2022 Color Builders, created in celebration of their variegated thread! You can read more about the story behind these gorgeous sets on the company's website.
Ήρθε η ώρα της τρέλας! Οι φίλοι μας στην Aurifil μας έστειλαν ένα σετ από τα καινούργια τους σετάκια με τα βασικά χρώματα σε τριάδα. Τα σετ αυτά δημιουργήθηκαν για να τιμήσουν τις διαβαθμισμένες τους κλωστές. Μπορείτε να διαβάσετε περισσότερα γι αυτές στη σελίδα της εταιρίας.
This month's challenge was to use those Aurifil threads in order to make a Crazy Patchwork quilt. You may read more about them here.
Η πρόκληση λοιπόν που είχαμε για τον μήνα αυτό ήταν να χρησιμοποιήσουμε τις κλωστές μας για να φτιάξουμε ένα έργο με τρελό πάτσγουορκ! Ό,τι είδος θέλαμε εμείς και σε ό,τι μέγεθος το θέλαμε.
Threads I received were the following:
Οι κλωστές που πήρα εγώ ήταν αυτές :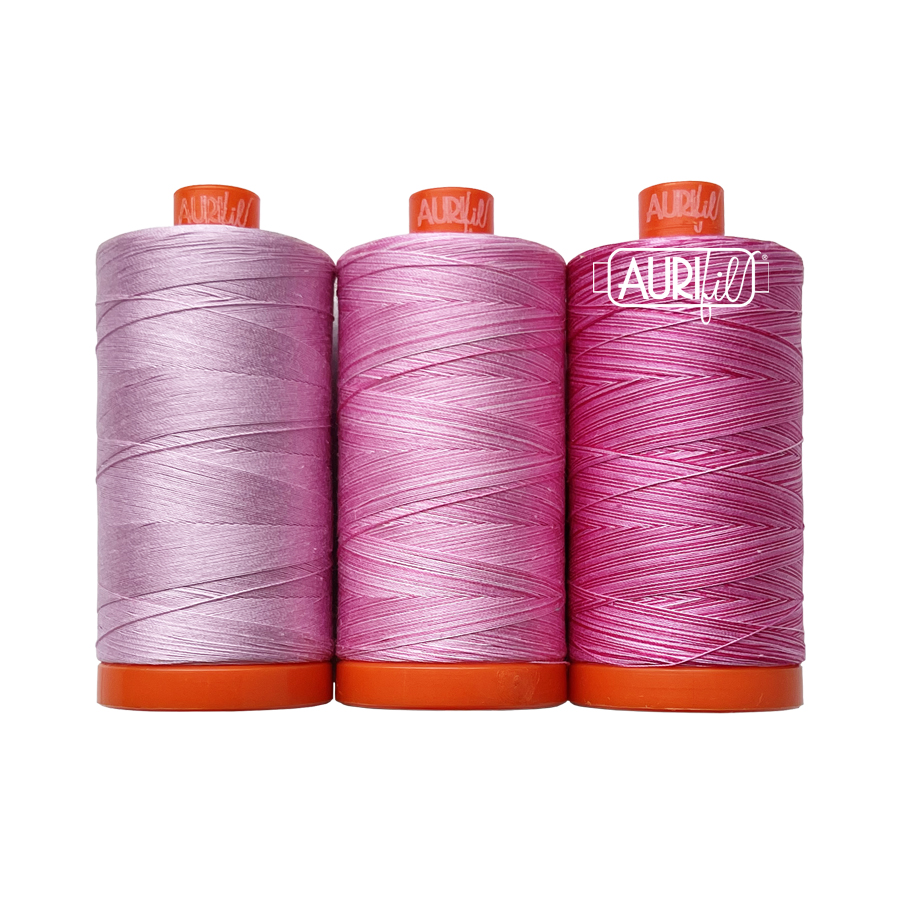 Nor pink is my favorite color, neither crazy patchwork my favorite technique. Anyway, I managed to make a pillow that I liked. The size is 18″ x 20″.
Ούτε το ροζ είναι το καλύτερό μου χρώμα, αλλά ούτε και αυτή η τεχνική του πάτσγουορκ. Ομως ένα μαξιλαράκι που μου άρεσε το έκανα. Το μέγεθός του είναι 45 επί 47 εκ.
I used assorted fabrics from previous collections. I thought of making a relatively neutral background with some blues.
Χρησιμοποίησα διάφορα υφάσματα από παλιότερες συλλογές. Προτίμησα ένα σχετικά ουδέτερο φόντο με λίγα στοιχεία μπλε.
My Husqvarna has many decorative stitches, so the crazy quilt pattern was a piece of cake.
Η μηχανή μου (Husqvarna) έχει πολλές διακοσμητικές βελονιές κι έτσι το τρελό πάτσγουορκ ήταν εύκολο να γίνει.
I then appliqued a fairy on my pillow so that the final product is more attractive to myself. I thread painted the wings and then colored them with my pencils.
Μετά απλικάρισα με ένα φούξια ύφασμα κι ένα νεραΙδάκι για να έχει μεγαλύτερο ενδιαφέρον για μένα. Έκανα με τη μέθοδο της ζωγραφικής με την κλωστή τα φτερά και μετά τα ζωγράφισα από πάνω με τα μολύβια μου.
Of course I used a piece of 80/20 Hobbs batting and Schmetz needles sent to me in my boxes by Island Batik in the context of Island Batik Ambassadors program.
Εννοείται ότι η βάτα που χρησιμοποίησα ήταν ένα κομμάτι HOBBS 80/20 και οι βελόνες Schmetz που ήταν κι αυτά μέσα στα κουτιά που πήρα από τα Island Batik στο πλαίσιο του προγράμματος Island Batik Ambassadors.
If you want to have a look at my previous projects, press here.
Εάν θέλετε να ρίξετε μια ματιά στα προηγούμενα έργα μου, δείτε τα εδώ.
And if you want to take a look at what my fellow Ambassadors made, please see the list below
Και αν θέλετε να δείτε τι έχουν φτιάξει οι συνάδελφοι Πρεσβευτές, δείτε την παρακάτω λίστα.
Brenda Alburl ~ Songbird Designs
Renee Atkinson ~ Pink Tulip Quilting
Pamela Boatright ~ PamelaQuilts
Susan Deshensky ~ Lady Blue Quilts
Brittany Fisher ~ Bobbin with Brittany
Preeti Harris ~ Sew Preeti Quilts
Mania Hatziioannidi ~ Mania for quilts
Reed Johnson ~ Blue Bear Quilts
Victoria Johnson ~ Forever Quilting for You
Randi Jones ~ Randi's Roost
Connie Kauffman ~ Kauffman Designs
Emily Leachman ~ The Darling Dogwood
Denise Looney ~ Quiltery – For The Love Of Geese
Leah Malasky ~ Quilted Delights
Maryellen McAuliffe ~ Mary Mack Made Mine
Anorina Morris ~ sameliasmum.com
Lisa Pickering ~ Lisa's Quilting Passion
Sarah Pitcher ~ Pitcher's Boutique
Claudia Porter ~ Create with Claudia
Lana Russel ~ Lana Quilts
Elita Sharpe ~ Busy Needle
Gail Sheppard ~ Quilting Gail
Sandra Starley ~ Textile Time Travels
Jennifer Thomas ~ Curlicue Creations
Suzy Webster ~ Websterquilt