This month's project was a scrapbuster, so that we could use remnants from previous projects made with fabrics sent to us from my favorite Island Batik. We had to make a quilt lap size or bigger in any technique using any fabric excepte from Surpise packages.
Αυτόν τον μήνα η πρόκληση ήταν να αξιοποιήσουμε υπολείμματα καπό προηγούμενα έργα που είχαμε φτιάξει με τα υφάσματα που μου έστειλαν τα αγαπημένα μου Island Batik. Έπρεπε να φτιάξουμε ένα πάπλωμα από ριχτάρι ή μεγαλύτερο με όποια τεχνική θέλαμε και χρησιμοποιώντας όποια από τα υφάσματά μας θέλαμε, εκτός από τα υφάσματα – έκπληξη.
I immediately thought of a pattern xreated by a former Ambassador Laura, from Slice of Π Quilts. She had made this pattern in a relative challenge and I adored it as soon as I saw it and I wanted to make it.The pattern is Exploding Heart and you may find it here.
Αμέσως μου ήρθε στο μυαλό ένα σχέδιο που είχε βγάλει μια πρώην Πρέσβειρα, η Laura από το μπλογκ Slice of Π Quilts. Το είχε φτιάξει αυτό το πατρόν σε μια αντίστοιχη πρόκληση της χρονιάς εκείνης και με το που το είδα, είπα ότι ήθελα να το φτιάξω. Είναι το πατρόν Καρδιά που εκρήγνυται (Exploding Heart)
I took every big or smaller piece of fabrics in her original colorway, because this was also an attracting factor for me.
Εβγαλα μικρά και μεγάλα κομμάτια υφασμάτων από προηγούμενα έργα στα χρώματα που το είχε κι εκείνη, γιατί έτσι το λάτρεψα.
Since I have got the dies I need from Αccuquilt, I decided on cuttin trianlges instead of making HST and QST. Of course it was so more easier and faster!
Μια και είχα τα κατάλληλα εργαλεία και κοπτικές μήτρες από την Accuquilt, αποφάσισα να μην κάνω ΤΜΤ (HST) αλλά για λόγους ταχύτητας να κόψω απευθείας τρίγωνα αλλά και τετράγωνα με το μηχανάκι μου.
I then started piecing using my Aurifil threads sent to me in previous boxes. I used them also for the quilting. Of course I made everiting in my Husqvarna Viking using as always Schmetz needles.
Στη συνέχεια ξεκίνησα την ένωση χρησιμοποιώντας κλωστές της Aurifil από προηγούμενα πακέτα, τις οποίες χρησιμοποίησα και στο καπιτονάρισμα. Φυσικά στη Χουσκβαρνίτσα μου και φυσικά χρησιμοποιώντας όπως πάντα τις βελόνες Schmetz.
The initial size of the pattern was 72″ * 72″. I did not was ok with the size, therefore I added white frames in order to make it queen size.
Επειδή το αρχικό μεγεθος ήταν 1,80 επί 1,80, φυσικά το ήθελα μεγαλύτερο και προσέθεσα άσπρες φάσες γύρω γύρω για να το φτάσω στα 2,20 να γίνει ένα κανονικό υπέρδιπλο.
The batting I used is the Heirloom Premium from the recent box, sent to me by Hobbs.
Η βάτα που χρησιμοποίησα ήταν η Heirloom Premium από το πιο πρόσφατο κουτί που παρέλαβα.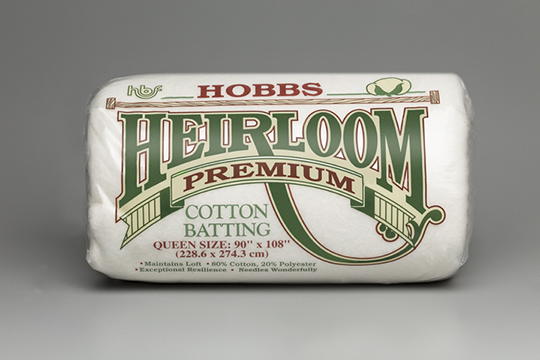 You may see the result below and of course it pleased me a lot!
Το αποτέλεσμα ήταν αυτό και φυσικά το λάτρεψα.
If you want to take a look at my previous projects in the frame of the Ambassadors program, please go there.
Εάν θέλετε να δείτε προηγούμενα έργα μου στο πλαίσιο αυτού του προγράμματος, ρίξτε μια ματιά εδώ.
Or if you want to see what my fellow Ambassadors received or make, please take a look on the below links:
Εάν πάλι θέλετε να δείτε τι έφτιαξαν οι ομόλογοί μου, ρίξτε μια ματιά παρακάτω:
Megan Best ~ Best Quilter
Pamela Boatright ~ PamelaQuilts
Elizabeth DeCroos ~ Epida Studio
Jennifer Eubank ~ Archipelago Quilting
Jennifer Fulton ~ The Inquiring Quilter
Preeti Harris ~ Sew Preeti Quilts
Joanne Hart ~ Unicorn Harts
Mania Hatziioannidi ~ Mania For Quilts
Jane Hauprich ~ Stitch By Stitch Custom Quilting
Connie Kauffman ~ Kauffman Designs
Emily Leachman ~ The Darling Dogwood
Denise Looney ~ For The Love Of Geese
Leah Malasky ~ Quilted Delights
Sally Manke ~ Sally Manke, Fiber Artist
Maryellen McAuliffe ~ Mary Mack Made Mine
Claudia Porter ~ Create with Claudia
Gail Renna ~ Quilt Haven Threads
Brianna Roberts ~ Sew Cute and Quirky
Michelle Roberts ~ Creative Blonde
Gail Sheppard ~ Quilting Gail
Andi Stanfield ~ True Blue Quilts
Jennifer Thomas ~ Curlicue Creations
Suzy Webster ~ Websterquilt
Janet Yamamoto ~ Whispers of Yore